Hello,
I've deployed Veeam Agent 2.1.0.423 on some computers in my company, but I ran in some issues with our internal application deployed on them.
It seems that Veeam Agent needs version "11.0.0.0" of "Microsoft.SqlServer.Types" which is deployed with the installation of SQL Server Express coming with Veeam Agent, but our internal applications uses version "10.0.0.0" of the same DLL.
This means that currently we need to choose between using Veeam Agent or our internal applications…
Our development team have forced the use of version "10.0.0.0" to regain access to our application, but it broke the link between Veeam Agent and the SQL Server instance installed with it.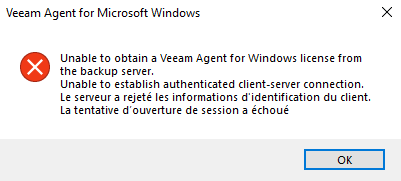 Is there any workaround to use Veeam Agent without brooking our internal applications ? We are currently unable to move up from version "10.0.0.0".
Thank you for your answers !