Hi
Need advice to build good B&R server. Hardware+configuration+ransomware protection.
We have 24 vmware Vms mixed windows linux, two exchange servers, two DCs...
1. Provisioned space to vms around 8.4Tb but real usage is much much lower.
2. Wont be domain member
3. server will be on dedicated vlan with access to only 2 PC and vmware vcenter.
4. backup time mixed: once, once par day and once per month
5. incremental forever
6. from time to time archiving to tape
7. how to configure access right to protect server from ransomware?
8. Do we need full sql server or express will be enough?
List of Vm...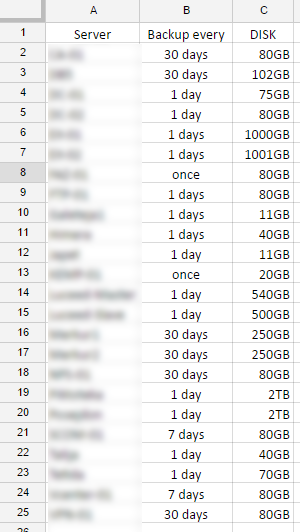 Is it this server parameters ok:
s2012 r2
ssd 120 gb for OS and b&r
4 core x64 intel or amd
32gb ddr4 ram
32tb raid 5...effective space +-20tb
2-4gbps lan card
700w psu witc apc