Helly everyone,
we are new to Veeam B&R and have a big problem. At every Backup we get a Source Bottleneck with 99%.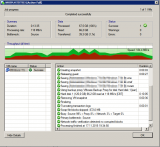 Environment:
14xESXi Hosts:
DELL R720 and R710 - ESXi 5.5
Physical Backup Server:
1xDELL R710 (2xE5630, 48GB RAM, X520 NIC) – Server 2008 R2 SP1 with all updates – B&R 8 2084
iSCSI SAN:
2xDELL Equallogc PS6510E
Backup Repository:
NAS Deluxe Storage
-Backup Server, SAN and Backup Repository are connected via 10GbE
-direct SAN Access is selected
-the SAN Network is mentioned as the privileged network
-in the host file the ESXi server is mentioned and when I ping the name of the ESXi server it is resolved correctly over the SAN network
-the LUNs are integrated with MS iSCSI-Initator
-backups go over the 10GbE network as I can see in the task manager
I set up a Backup Proxy (2vCPUs, 4GB RAM, connected do SAN network) for testing on another ESXi as the machine I want to backup – no speed improvement.
I ´ve got a remote session with a veeam engineer last week and he said, that the problem is at VMware. What do you think? Is there something I didn´t see or is something wrong configured?
If you need more informations, let me knew it.
Thanks