A friend of mine who has been using the incremental Veeam Endpoint Backup 1.5 for a few years but obviously made some mistakes (not sure really which ones), me passed his backup folder which contains the following files: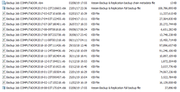 The file "Backup Job COMPUTADOR.vbm" contains the following data:
https://justpaste.it/1pi9e
I saw on his computer that now he had upgraded the installation to Veeam Agent 3.
He is asking me to recover as many files as I can from his backup files, and I am not sure what to do since when I click on the "Backup Job COMPUTADOR.vbm" I this screen saying there is no valid data: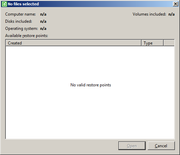 So my questions are:
1) Is there any compatibility issues between successive versions of Endpoint Backup and Agent software? (I installed version 2.2.0.589 which I found written in the "Backup Job COMPUTADOR.vbm" file - this is the one giving the "No valid restore point" message.
2) Is is possible to recover files on a computer different from the original one (one which has different backup configuration settings)?
3) How do I check the integrity of a Veeam backup file set? The backup file set seems to contain quite a bit of data - summing the size of all files we have close to 500GB.
4) Supposing the integrity of the backup was violated (not sure if some important files were deleted - he mentioned to me that the backup disk was full), is there any way I could recover some files? How?
Eagerly waiting for some help on any of these questions!
Any comment well appreciated!