Hi Guys,
after some Problems with Windows 7 the Microsoft Support recommends a Windows Inplace Update. After that the Service "Veeam Entpoint Backup" don't start anymore.
I uninstalled the product over the windows control Panel. Also all Microsoft SQL Components. For safety i restart the pc and installed it from scratch. After copy the files, etc.. the wizard try to start the Service....and run into the timeout: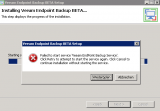 The Service "SQL Server VSS Writer" starts sucessfully.
With informations are necessary for troubleshooting?
Environment:
Windows 7, SP1, 64Bit, Enterprise
Regards,
Daniel